Catholic Theology of Marriage in the Era of HIV and AIDS: Marriage for Life – April 24, 2015
by Emily Reimer-Barry (Author)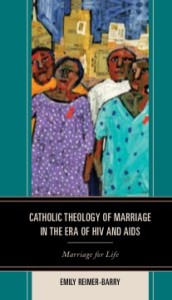 Marriage for Life begins by listening to the lived experiences of Catholic, married, HIV-positive women, in order to better understand their struggles. The eight women interviewed in Chicago, Illinois, USA, shared their stories of marriage, of family life, of church involvement, and of living with HIV. Their candid reflections offer a fresh and grounded perspective on the challenges of living with HIV in a US context. After listening to and learning from these women's experiences, Reimer-Barry constructs a theology of Christian marriage that is life-giving in a world with AIDS.